Small wind turbines
Vertical-axis wind turbines (VAWT) are a type of wind turbine where the main rotor shaft runs vertically. VAWT do not need to be pointed into the wind.
Vertical axis windmill/turbine, Vertical magnetic windmill from 300W to +15kW with permanent magnet generator PMG and Grid connected wind inverters.
Small wind energy systems, small wind and renewable energy systems. Please contact us for VAWT prices and information.
10kW Vertical windturbine, 10kW rated VAWt turbine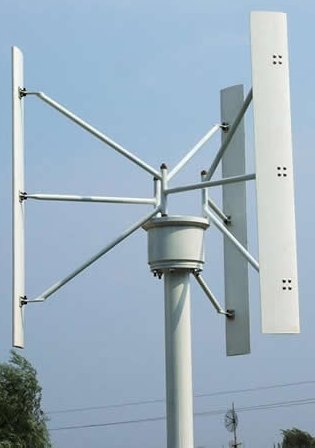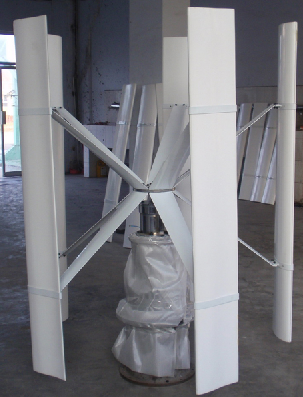 Windturbine with curved blades
S shaped windmill, helical windturbine.
| | | | |
| --- | --- | --- | --- |
| Power | 150W | 300W | 450W |
| Diameter | 0.5m | 0.75m | 1m |
| Blade Length | 1m | 1.4m | 1.5m |
| Rated wind speed | 14m/sec | 14m/sec | 14m/sec |
| Start up | 2m/sec | 2m/sec | 2m/sec |
| Cut in | 3m/sec | 3m/sec | 3m/sec |
| Survival | 35m/sec | 35m/sec | 35m/sec |
| Blades | PUR hard foam 3 | PUR hard foam 3 | PUR hard foam 3 |
| Packing | Plyboard steel frame | Plyboard steel frame | Plyboard steel frame |
| Net weight | 22kg | 38kg | 50kg |
| Gross weight | 43kg | 66kg | 75kg |
| Size | 1.6×0.8×0.8 | 1.9×1.1×1.1 | 2.0xx1.2×1.2 |
| | | | |
| --- | --- | --- | --- |
| Power | 600W | 900W | 1.35kW |
| Diameter | 1m | 1.5m | 1.5m |
| Blade Length | 2m | 2m | 3m |
| Rated wind speed | 14m/sec | 14m/sec | 14m/sec |
| Start up | 2m/sec | 2m/sec | 2m/sec |
| Cut in | 3m/sec | 3m/sec | 3m/sec |
| Survival | 35m/sec | 35m/sec | 35m/sec |
| Blades | PUR hard foam 3 | PUR hard foam 3 | PUR hard foam 3 |
| Packing | Plyboard steel frame | Plyboard steel frame | Plyboard steel frame |
| Net weight | 73kg | 110kg | 135kg |
| Gross weight | 95kg | 140kg | 175kg |
| Size | 2.7×1.2×1.2 | 2.7×1.7×1.7 | 4.0×1.7×1.7 |
| | | |
| --- | --- | --- |
| Power | 1.8kW | 3kW |
| Diameter | 2m | 2m |
| Blade Length | 3m | 5m |
| Rated wind speed | 14m/sec | 14m/sec |
| Start up | 2m/sec | 2m/sec |
| Cut in | 3m/sec | 3m/sec |
| Survival | 35m/sec | 35m/sec |
| Blades | PUR hard foam 3 | PUR hard foam 3 |
| Packing | Plyboard steel frame | Plyboard steel frame |
| Net weight | 155kg | 258kg |
| Gross weight | 205kg | 335kg |
| Size | 4.0×2.3×2.3 | 6.2×2.3×2.3 |
Low voltage windturbine inverters Can accept changes of wind direction with no problem. Generator can be on the ground for more easy access, rather than up in the air. Generally begin rotating at lower speeds Are more quiet Lower susceptibility to cross-winds The blades have a wing shape, so they are propelled by the lift principle rather than push. The rotor angles automatically adjust or tilt to get the best attack 3kW wind turbine magnetic levitation The blades are shaped like an airplane wing which allows the turbine to rotate faster than the wind speed vertical wind turbine components wind turbine where the main rotor shaft is set vertically and the main components are located at the base of the turbine generators and gearboxes can be placed close to the ground, which makes these components easier to service and repair, and that VAWTs do not need to be pointed into the wind vawt can be packed closer together in wind farms VAWTs are rugged, quiet, omni-directional, and they do not create as much stress on the support structur They do not require as much wind to generate power, thus allowing them to be closer to the ground. By being closer to the ground they are easily maintained and can be installed on chimneys and similar tall structures reduces friction, noise, vibration and energy losses, and generates power in low wind environments. Self-contained electrical ecosystems can power telecoms towers, single buildings, or even entire communities